Using Seating Maps for Your Event
Whether your event is an intimate wedding reception or a multi-day concert, you will love using our brand new Seating Maps - our team has been working really hard on this to ensure it is as effortless as possible to create and manage your seating arrangements.
Are you using Safari? Please read this...

We highly recommend using Chrome when you're using Seating Maps to make sure your work doesn't get lost as it is an intensive WebGL application. Due to a recent Safari upgrade, it's possible the webpage will reload automatically without saving your work.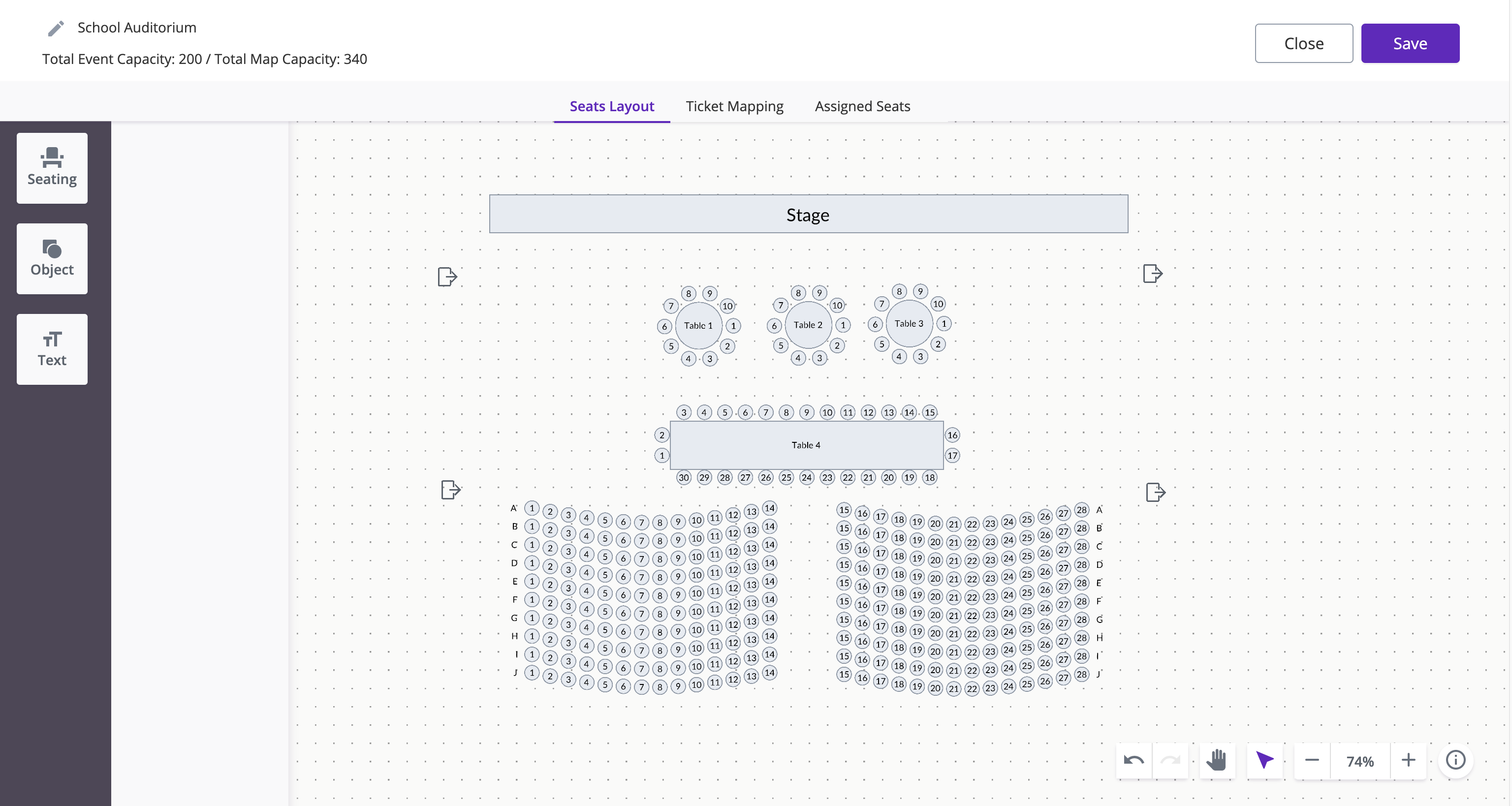 3 simple steps to get your event seating-map ready:
1. Create your layout
Once you've selected your event from
Events
, you will see
Seating Maps
from the left menu bar.
You can either create a map from scratch or use one of the maps you've created before as a template. Then you'll be taken to the seating maps' builder.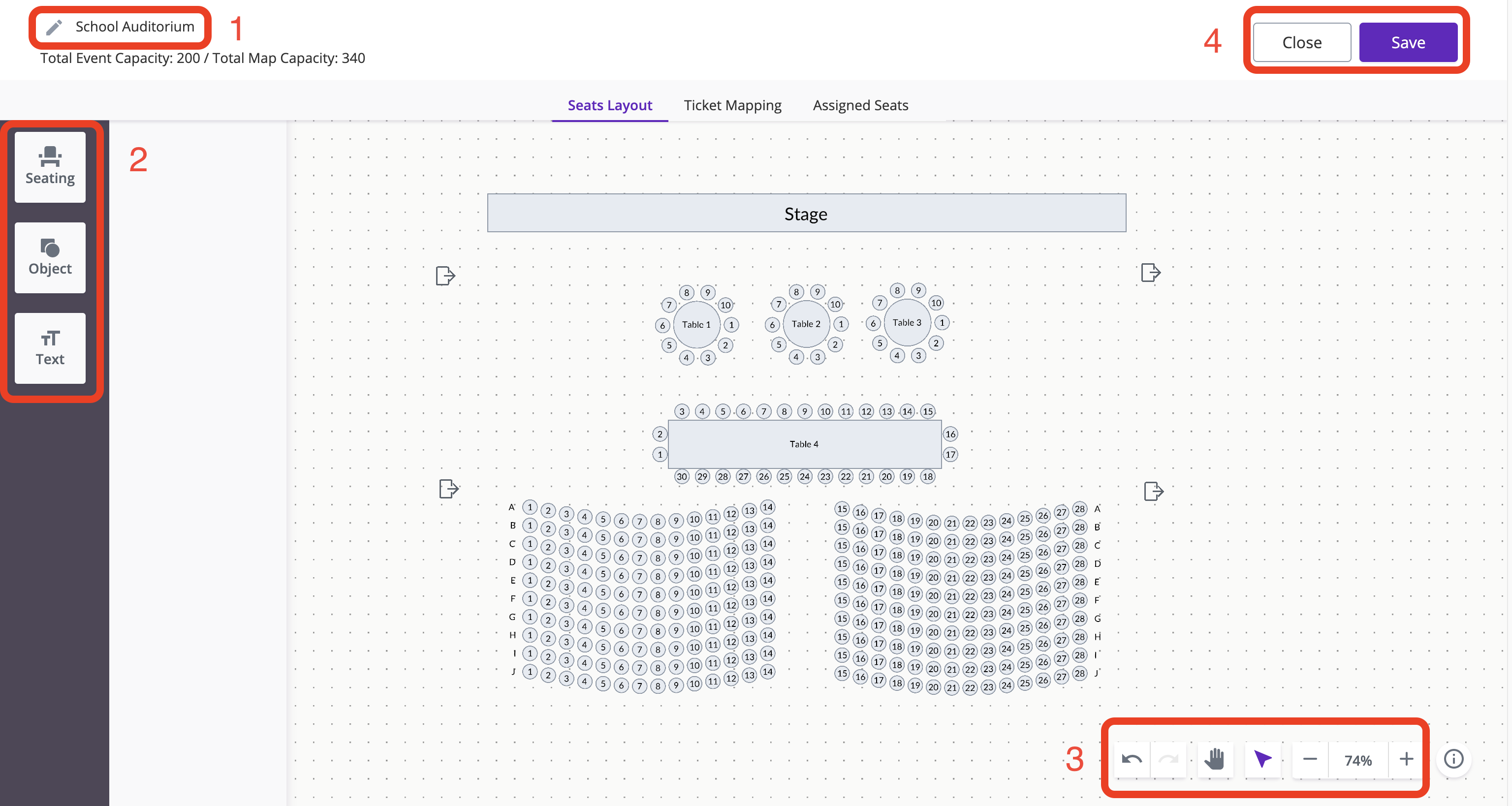 A few important tools you will find useful:
Rename your seating map with the renaming tool - this helps you identify each seating map especially if you have quite a few venues to manage;
All maps are built from these 3 elements, simply click and choose to add to the map:

Seating
Object
Text

Additional tools to give you more control:

Undo/redo and zoom in/out;
Pan tool - use this when you want to move things around and change setting to an element;
Multi-select tool - use this when you want to select seats within an element;

Always remember to click Save when you're done with your changes.
2. Map your tickets to seats
Once you have built your seating map, all you need to do is to link the seats you've built to the tickets in your event.
This is a crucial step to get your seating map working. Please make sure you have this in place :)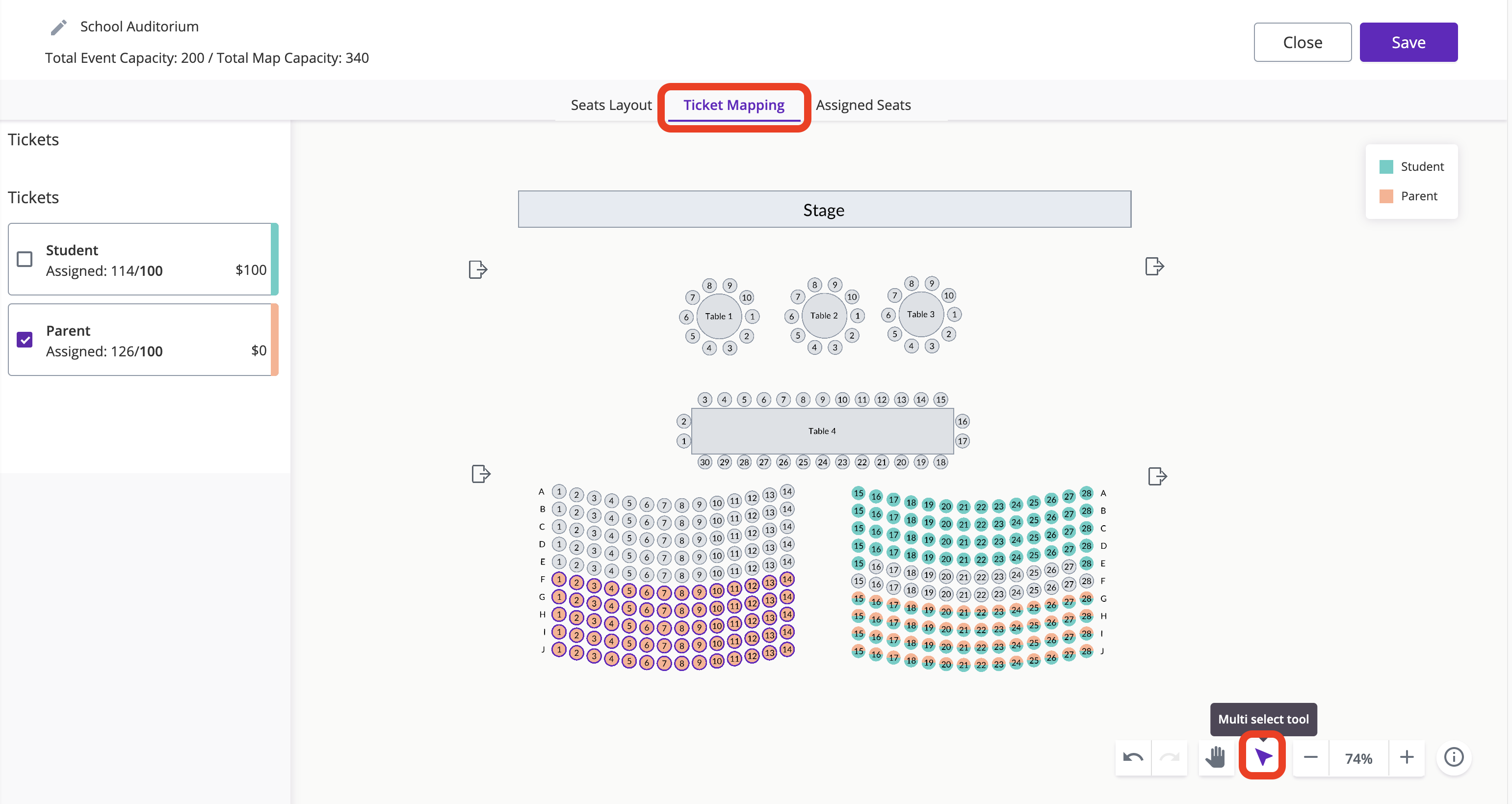 Follow the steps below to allocate your seats to the right ticket types:
Navigate to the Ticket Mapping tab;
Make sure you have selected the Multi-select tool or press and hold the Shift key on your keyboard;
Select the seats in the map;
Select the ticket types from the left panel to allocate;
You can map multiple ticket types to the same selection of seats at the same time.
Click Save when you're done.
3. Choose how seats are assigned
You can either choose for your ticket buyers to assign their own seats or for you to assign seats to them yourself:
Go to the Seating Maps page of your event:
Toggle on and off "Attendees can pick their own seats":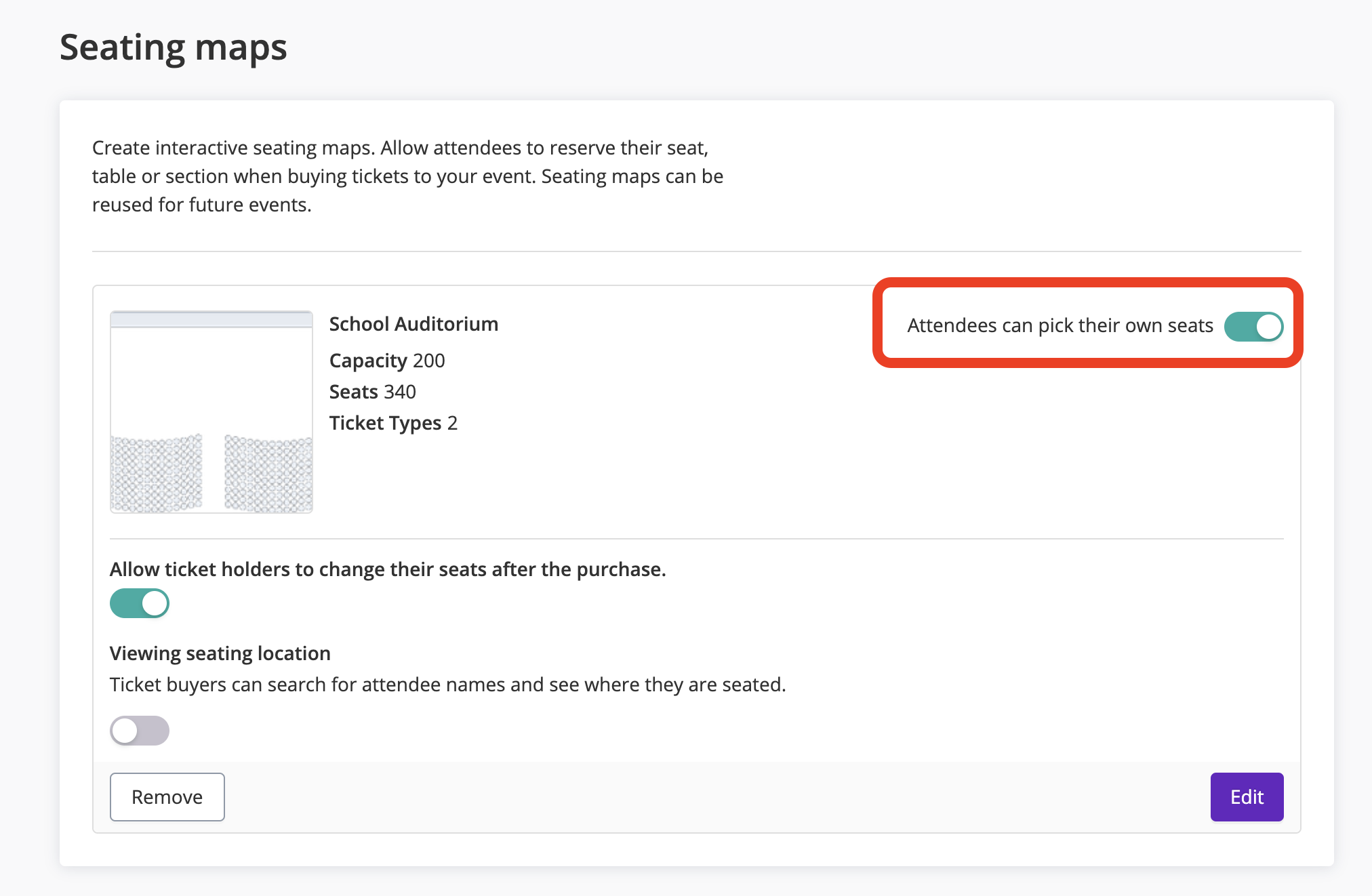 When this is "OFF", it will not change the checkout process and you will need to assign the seats yourself.
How do I assign seats?

Go to the

Assigned Seats

tab and from the left panel, make sure you have selected the right date (if you have multiple recurring dates) and click the

Unassigned

tab. Then simply work through the list and pick a seat for attendee without a seat.
When this is "ON", it will add an additional step in the checkout process so your ticket buyers will have to select seats before they pay for their ticket purchase: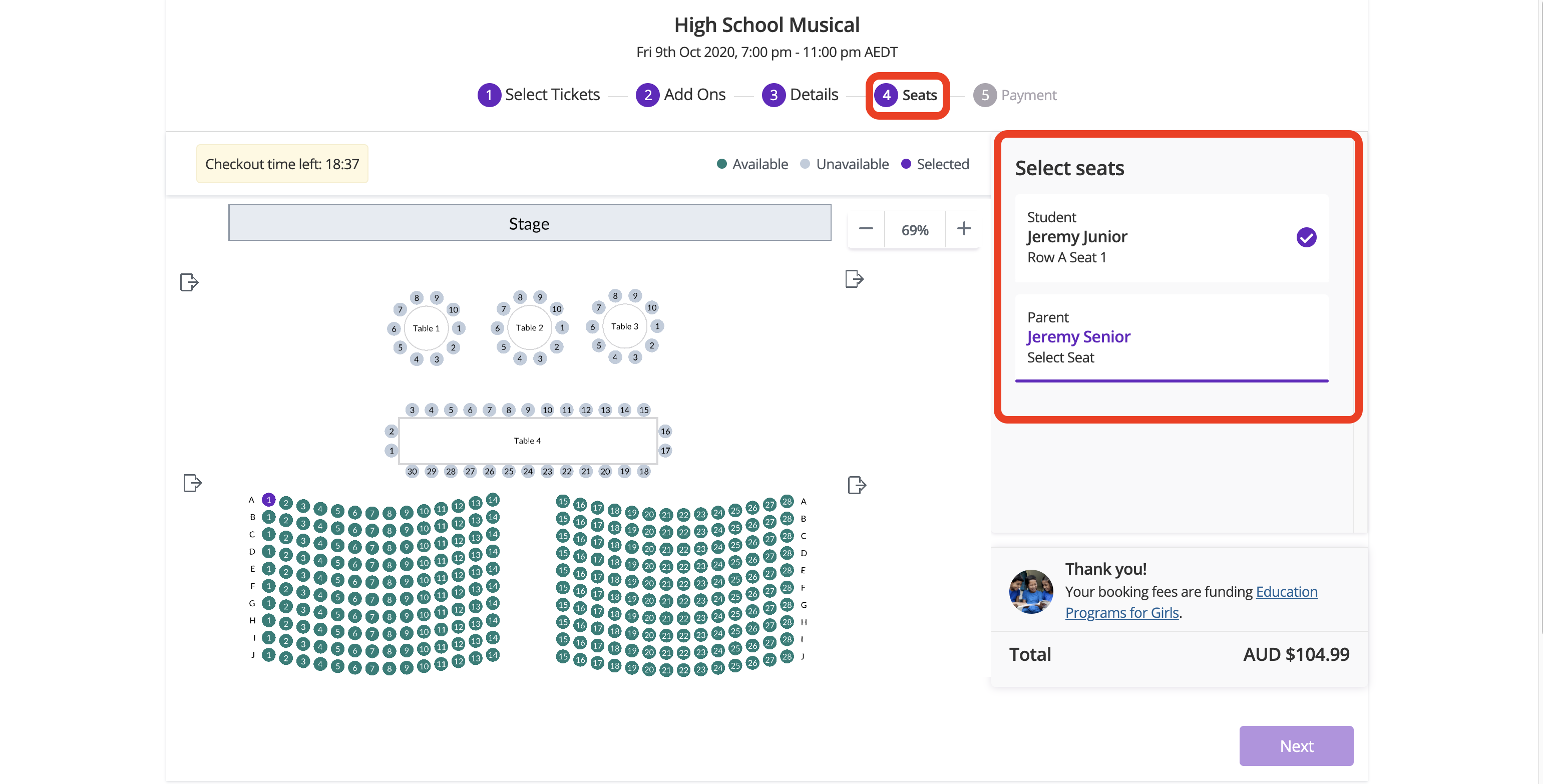 Still feeling a bit lost?
Check out our complete guide which has more detailed step-by-step instructions:
---
---