Ticket types
To create a Ticket Type:
Click "+ Paid", "+ Free" or "+ Flexible pricing"
Enter a name for the ticket, such as "General Admission", "Early Bird", or "VIP"
Set the "Ticket Capacity" and then the "Price"
Hit "Save".
What is "Ticket Capacity"?
This refers to how many of this specific ticket type can be sold in total.
What is "Total Event Capacity"?
This overrides the total capacity of the individual ticket types - particularly useful if the venue where your event is hosted has a capped intake.
What is "Flexible Pricing"?
The flexible pricing ticket type option can be added just as any other paid or free ticket type and has it's own ticket capacity.
This ticket type gives 2 options for how attendees might pay for their ticket:
1. Any amount
Attendees can enter their own amount
You can set Min / Max amounts
2. From a list of set amounts
Attendees are given a list of set amounts to choose from
List as many options as you would like
To set up either option, open the "Settings/Cogwheel" button of the flexible ticket type you have added.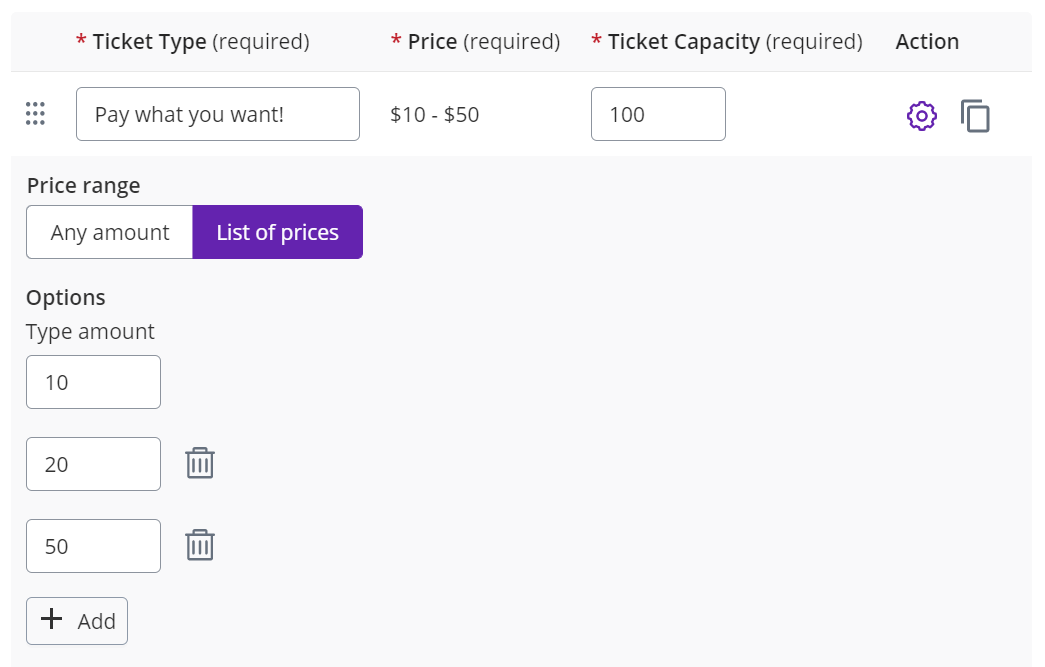 Adding Additional Donation to Your Ticket Options
"+ Donation" provides organisers the ability to collect donations for their specific cause. Attendees can enter a custom donation amount into the field on checkout in addition to or in-place of a ticket purchase. This donation amount will be transferred to the organisers bank account along with any ticket sales proceeds collected.
Although "Donation" is added in the ticket type section, it is NOT a ticket type per se. If you would like the attendees who have contributed with donation to get a ticket as well, please make sure to add a free Ticket Type which accompanies the donation option, so that attendees can be checked in the event with their tickets.
Pro Tip: Once the basic information of your event is saved, ticket types can be added and updated within the 'Ticket Types' section of the 'Tickets' tab as well as in the 'Basic Information' section.
Other Articles:
Custom ticket date, time and location
---
---