Gift Cards
It's the end of bad gifts 🎁... Let your customers give the greatest gift of all; an unforgettable experience at a roaring event (yours!) 🤙
With our Gift Card feature, customers can purchase vouchers for friends and family to be used at any of your events.
Selling your Gift Cards
1. Create a Gift Card page
Gift cards are purchased via a dedicated landing page which you can promote in addition to your events.
Click on the Promote tab on the top menu bar.
Select Gift Cards
Via the left-hand menu bar, select the Gift Cards page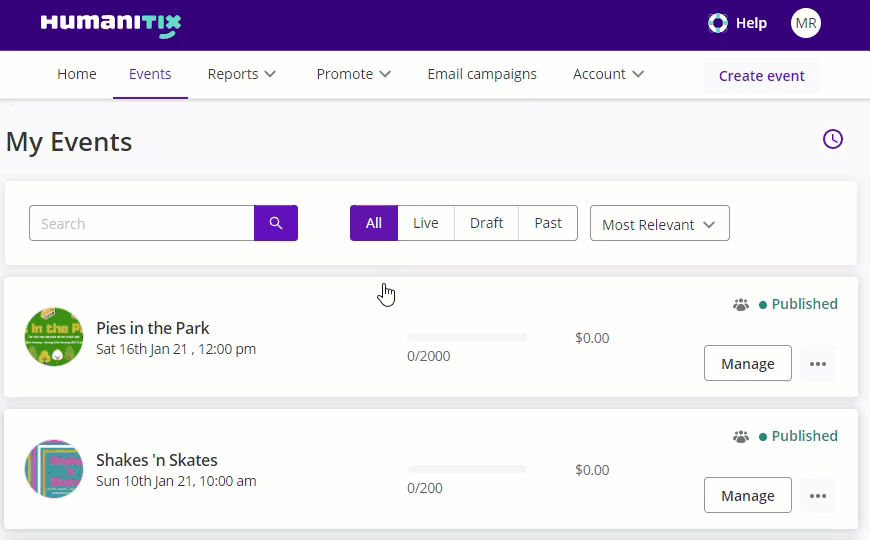 Give your gift card page a name, provide your organisation / company / business name and insert your logo along with a short description, and hit SAVE
A URL will automatically be generated once your gift card page has been successfully saved.
Share this URL on your website, social media, newsletters - wherever you like!
You can view the gift card page and any changes you made via the generated URL.
Gift card pages are "live" by default, but can only be accessed via the direct URL link
2. Style your page
Click on the Styling tab.
Make your page your own by adding a banner image and your favourite colours

3. Create your Gift Cards
Select the Gift Cards tab on the left-hand side menu and click Create Gift Card
Enter your gift card details including:
Gift Card name e.g. $50 Gold Card
Value
Which events this gift card be used for
How long the gift card is valid for
Your company name
Quantity available
Number of gift cards that can be used on each order
You'll need to create multiple gift cards if you'd like to offer vouchers at different prices, months of validity, or events.
You can customise each gift card individually via the Styling tab
Buying and Using your gift cards
1. Choosing a Gift Card
Heading to your Gift Card page, customers can choose one, or multiple, gift cards
For each gift card, they will enter their recipient's details including name and email address
By clicking the See events link, a customer can see which events the gift card can be used towards.
Customers cannot purchase more than one of the same gift card in the same order.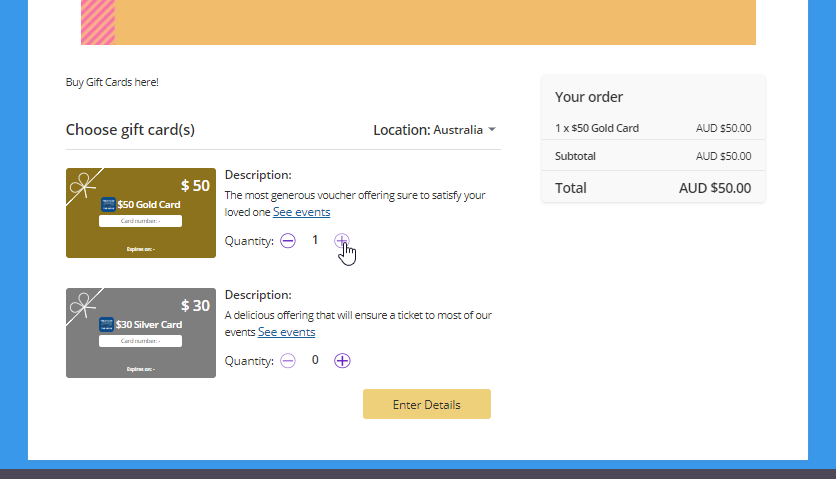 2. Using a Gift Card
Gift card recipients will receive a confirmation email containing
Their Gift Card number
A link to eligible events
instructions on how to use their gift card
Gift card numbers are applied in the Gift Card code field on the payments page during checkout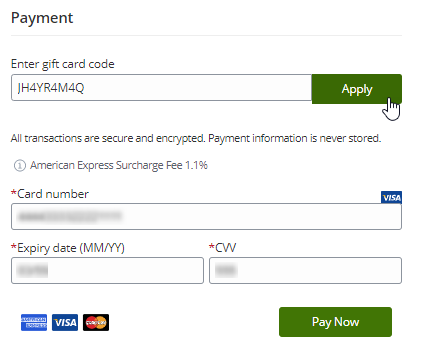 Orders will still be charged a booking fee on the original sale price (subtotal).
Fees are not charged on the purchase of the gift card itself
Resending gift card emails
You can resend the gift card order confirmation email as well as the offer email (which contains the gift card code) by following the steps below:
Head over to Reports > All Reports > Gift Cards;
Locate the gift card order by Order ID or Name;
When the search result is loaded, click the Order ID to see the order details;
Click Actions > Resend Tickets;
---
---