Setting up "Paid by invoice" as an alternative payment option
Apart from credit card payment, "Paid by invoice" offers a convenient way to allow your customers to go through the checkout and request an invoice to pay you directly.
1. Set up invoicing
Simply follow the steps below to set it up:
On the top menu bar select events and select the event you wish to set up invoice gateway for;
Go to Payments and Fees > Gateways;
Select Set-up Humanitix Invoicing > Enable invoicing
On the pop-up finish the setup with your payment details and click Save
Pro tip:
you can set this up in your
Account Default Gateways
so it affects all your future events globally, meaning each event you create in the future will have the "Invoice" Gateway enabled with your invoice information saved.
Make sure to switch OFF "Send invoice manually" if you wish our platform to send them an invoice after checkout, and follow the prompts to add in your company and bank account details. Leave this ON if you wish to send invoice from your own system.
2. Decide who can pay via invoice
You can choose the "pay by invoice" option to be public or private:
If you want the invoice gateway to be available for everyone, make sure the toggle "Only allow invoices via a link" is OFF.
If you want the invoice gateway to be hidden from the public but only available via a link, make sure the toggle "Only allow invoices via a link" is ON.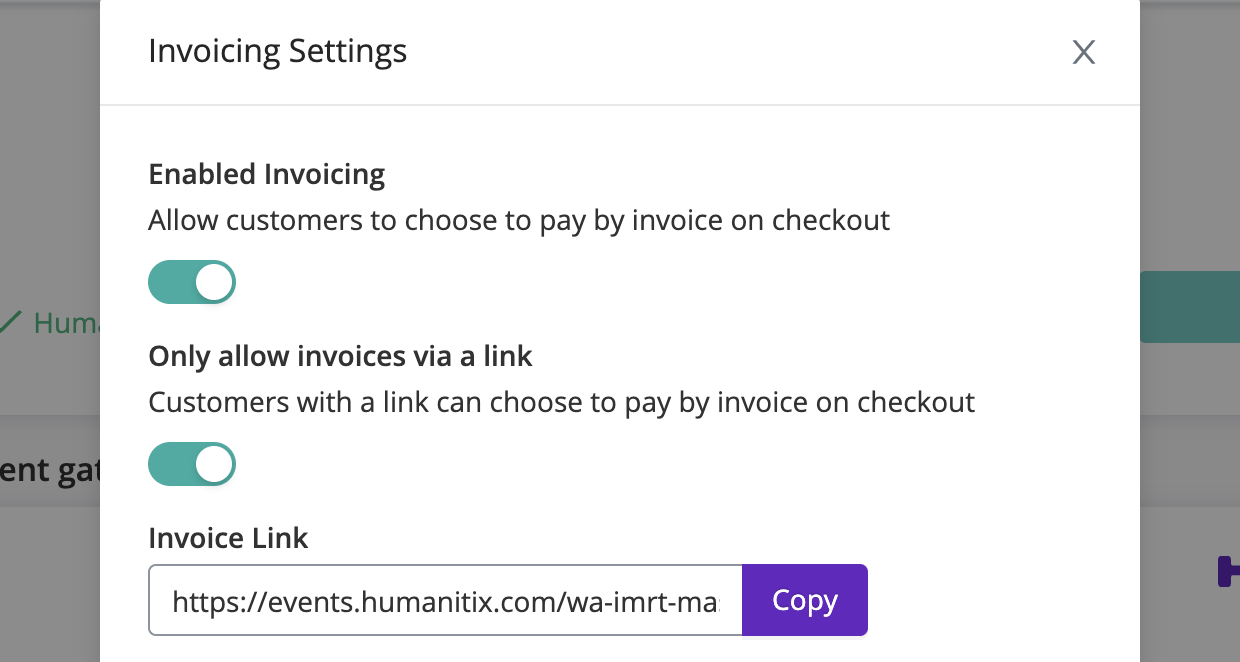 3. Send tickets after someone has transferred payment
By default when an orders is paid via invoice, tickets will not be included and will need to be sent manually afterwards. You can enable "Tickets sent after checkout" if you wish for guests to receive tickets straight away.
When you confirm you have received the payment, all you need to do is to:
Locate the invoice under Reports > Paid by invoice
Click Actions > Mark as Paid
You will be prompted to resend tickets for them to receive the tickets.
4. Amend items purchased via invoice
Please note: you won't be able to add more but you can remove items. To add more items, you will have to ask the customer to go through the checkout again and request for a new invoice.
Follow the steps below if your customer wants to remove any items on the invoice they don't want to pay for:
Locate the invoice under Reports > Paid by invoice
Click Actions > Mark as paid
Click Refund / Cancel tickets
Check the ticket item you wish to remove and put in the right refund amount to adjust the total of the invoice;
Uncheck the "Send refund confirmation email" box as this is not a refund per se so we don't want to confuse the customer;
Once the refund/cancellation process is complete, click Actions > Remove invoice
---
---