I need to cancel my event
We're really sorry to hear that! 😥
We bet you've put alot of work into things already and we're here to help make the process as smooth and painless as possible.
First things to do when cancelling your event:
1. Stop sales via the actions menu button in the top right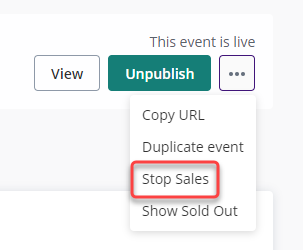 2. Send an email campaign to notify your attendees of the cancellation/postponement
3. (optional) Include a note in your event description/title to communicate to prospective attendees that the event is cancelled via the Basic Information page
Options to consider when cancelling your event
A. Refund and cancel all attendees
B. Postpone the event to a new date
C.Transfer attendees to a new date or event
I need to cancel and refund my entire event…
Have lots of attendees?
Please reach out to us or raise a platform support request via live chat so we can process a bulk refund for you. This will save you the trouble of having to manually refund your orders one by one.
Have only a handful of attendees?
You can process refunds / cancellations for individual tickets and orders at anytime - no need to wait for us!
Transfer attendees to a new event
Refunding and cancelling all tickets for an event - and prompting attendees to rebook - is often the most straightforward and easiest approach to handling an event cancellation, however, we understand this isn't always the right option for you. It may be worth reaching out to attendees to ask if they would prefer a refund, or, like to be issued a ticket for another event.
Do you have a new date or another event your attendees would be happy to attend? Use the following options to instead transfer attendees to a new event!
Using our Bulk Upload tool you can generate new tickets for your current attendees to a new event.
Download the "Attendees" report for your event and copy + paste this data onto the file you'll use to bulk upload.
Use our Ticket Swap feature to move an attendee to a new date or event in a few clicks.
Note: If using the Ticket Swap feature - please do this before cancelling all tickets as cancelled tickets cannot be swapped.
You will need to process a new manual order in this case.
---
---