How to redeem my NSW Discover voucher on Humanitix?
You can now redeem your vouchers until 30 June 2022.
Where can I get Discover vouchers?
Vouchers are available via the NSW Service app. To learn more about applying for vouchers, check out the Service NSW FAQs page.
Vouchers are not provided through Humanitix or by event hosts.
How to use the vouchers on Humanitix?
To apply your NSW Discover voucher code at checkout:
Select your tickets and enter your details;
When you are at the last step (Payment stage) of the checkout, launch your Service NSW app and load the voucher code on your phone;
Enter your Discover voucher code in the field located above the credit card payment method;
Click Add to apply;
If the voucher amount is not enough to cover the order total (including any booking fee), we will prompt you to enter your card details.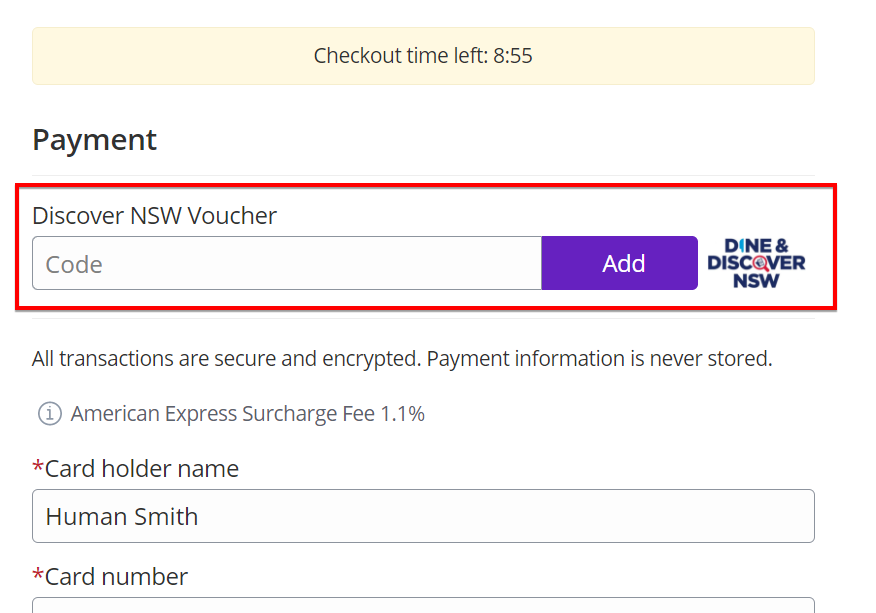 Please note:
Only Discover voucher is accepted on Humanitix;
Any NSW Discover voucher code is only valid for 10 minutes;
Only 1 voucher code can be applied to each transaction;
Once a voucher code is used, it can not be redeemed again. If the total $25 balance is not used in full, the remaining balance of vouchers is void.
I got an error when using the Discover NSW voucher...
Check the following:
Make sure you are using a Discover voucher. Dine vouchers are intended for dining in restaurants, cafés, bars, wineries, pubs, or clubs.
Make sure you use the voucher within 10 minutes. If you haven't used your code after 10 minutes, reload the app and get a fresh code.
Can I request a refund for my used voucher?
Amounts paid by voucher are non-refundable via Humanitix according to NSW government policies.
However, you can contact your event host to request a credit for your Discover voucher.
---
---