Navigating permissions and giving access to your team
We give organisers the ability to provide event access and management permissions to their team. Permissions can be issued across multiple events and span from full event access to strictly scanning/check-in.
Note: For team members to gain access they must have/create an account using the same email address permissions were issued to.
1. Types of permissions
Event-specific
You can pick and choose to issue the following 4 permissions for a single event or multiple events. We have included a few typical use cases to give you a better idea of what suits you the best:
If this table below is too wide for your screen, please keep scrolling to the right...
You will need...

===================

You want to...

1. Event management

2. Orders, attendees and email campaigns

3. Finances and reports

4. App access

Edit event information (changing date/location/description)

✅

View and analyse ticket sales performance

✅

View and download attendees details

✅

Reconcile event payouts

✅

Swap tickets or change booking details

✅

Refund orders and cancel tickets (remove attendees)

✅

✅

Send email campaigns

✅

Check number of tickets sold and attendees checked in

✅

Help to check-in guests on the app

✅
Full-access
To understand what "full access" means, let's say Jane has shared full access with me...
Now, I CAN:
See all information related to Jane's events, which includes all event-specific permissions as described above; and,
Create templates, organiser profiles, email campaigns, tours, gift cards and global discount codes and apply them to some or all of Jane's events;
However, I will NOT be able to:
Create add-ons for Jane's events;
View/edit the templates, organiser profiles, email campaigns, tours, gift cards and global discount codes created by Jane;
Create Zapier integrations for Jane's events;
Add/update bank account details for Jane's events;
Apply default settings (my account) for Jane's events; or,
Apply default gateways (my account) for Jane's events.
2. Issue Permissions
Each permission is issued on a one-way person-to-person basis.
For example, if you want everybody to be able to see each other's events on your team, simply ask each team member to issue a "Full Access" permission to everybody else on the team and vice versa. This way, everybody can see the events that everybody else creates.
Head to the "Account >> Permissions" tab from the top menu bar;
Click the "Add Team Member" button on the right-hand side, enter your teammate's email address and choose the access level appropriate for that individual. For "Full Access", you can further specify if you want to "allow your teammate to share this permission to others"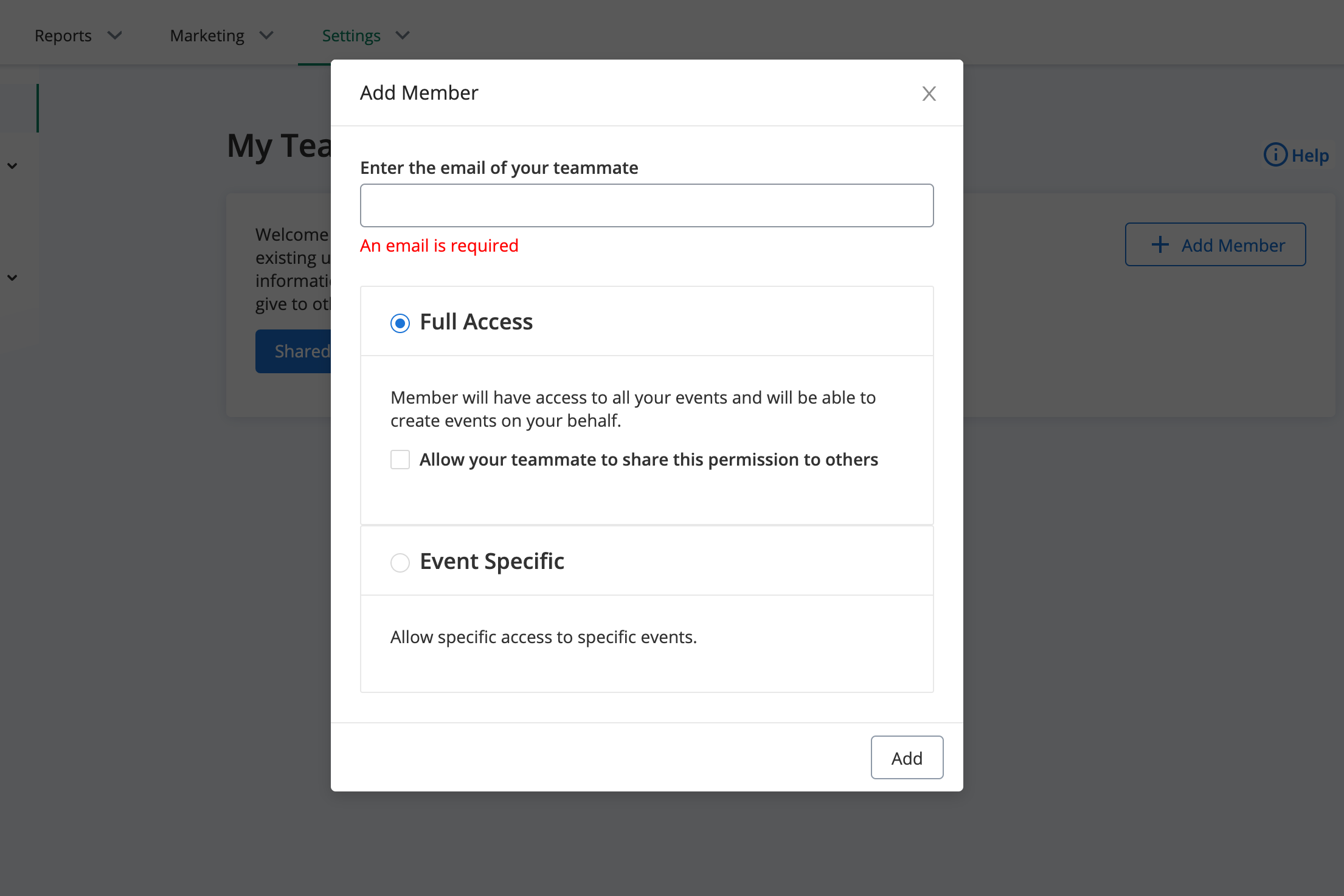 Team members are then issued an email directing them to the Humanitix console to either login or create an account.
3. View Permissions
By heading to the "Account >> Permissions" tab from the top menu bar, you can view:
The permissions you have shared with others by clicking the "Shared" tab; or
The permissions you have been shared by someone else by clicking the "Received" tab.
I have been shared full access permission from my colleague, but I can't see the event from my list of events?
It is very likely that the event you are looking for is created and owned by somebody else.
The ownership of an event does not get passed on to you even when your colleague shared their full access permission with you, as the event is inherently owned by the creator.
In order for you to see this event, you will need to ask the event creator/owner to share event-specific access directly with you.
---
---