Using the Humanitix App
Download the Humanitix scanning app
The Humanitix App is free to download and is designed to help you easily manage your event entry, or keep an eye on how events are selling while on the run.
Download the Humanitix organiser app via the iOS Apple store (iphone) or the Google play store (Android)
Note: You will need to grant camera permissions to the app in order to allow scanning
Log into your Humanitix account using your email and password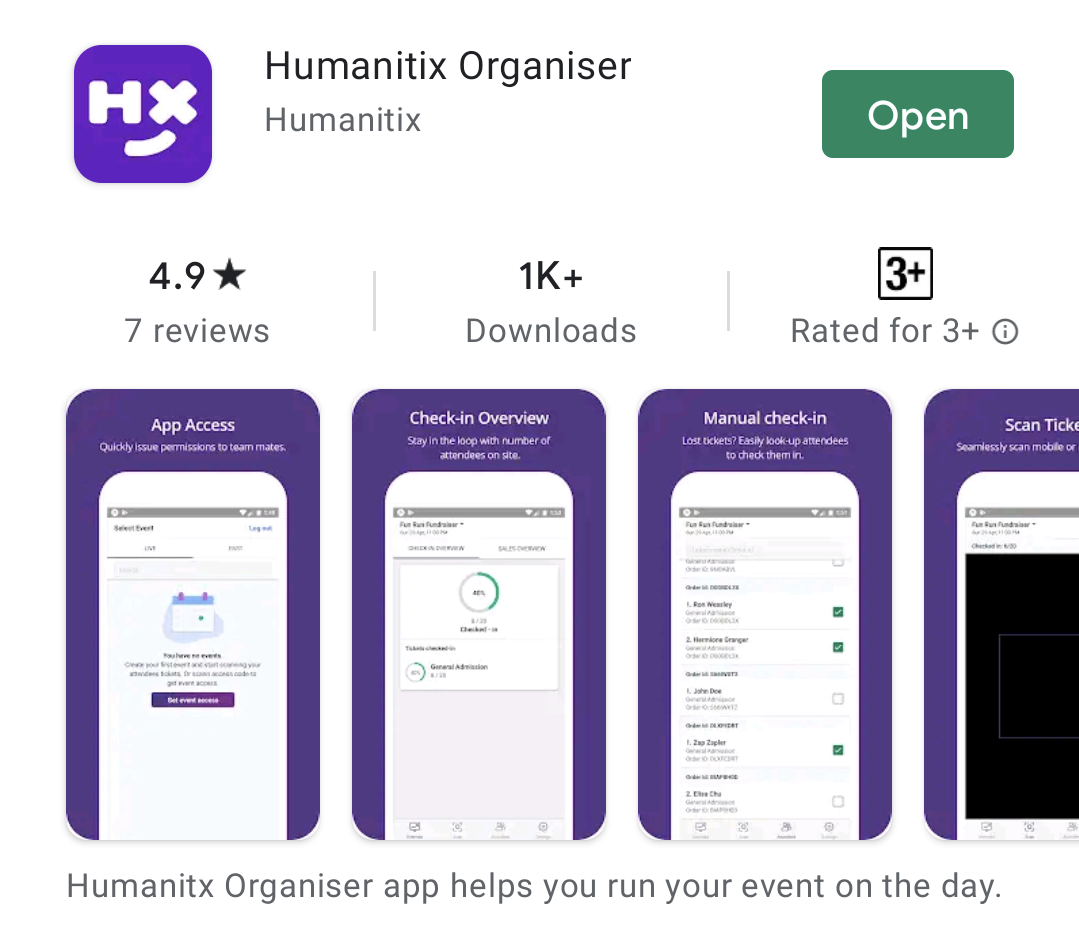 Pro Tip: You've got the power ⚡
Bring additional power packs/chargers as well as the right cables just in case. If you have volunteers and they are using their own devices to help you scan, make sure they do the same.
Navigating the Humanitix app
Dashboard
Select the event you would like to scan tickets for via the home page.
If your event has multiple dates, make sure you select the right date.
Track live check-in and sales figures
As long you are connected to the internet your check-in and sales figures will update live as they roll in!
(These figures will update once you reconnect to a data/wifi source).
The filter button towards the top right will filter the tracker view by only certain ticket types.
The home icon in the top left will take you back to your events list.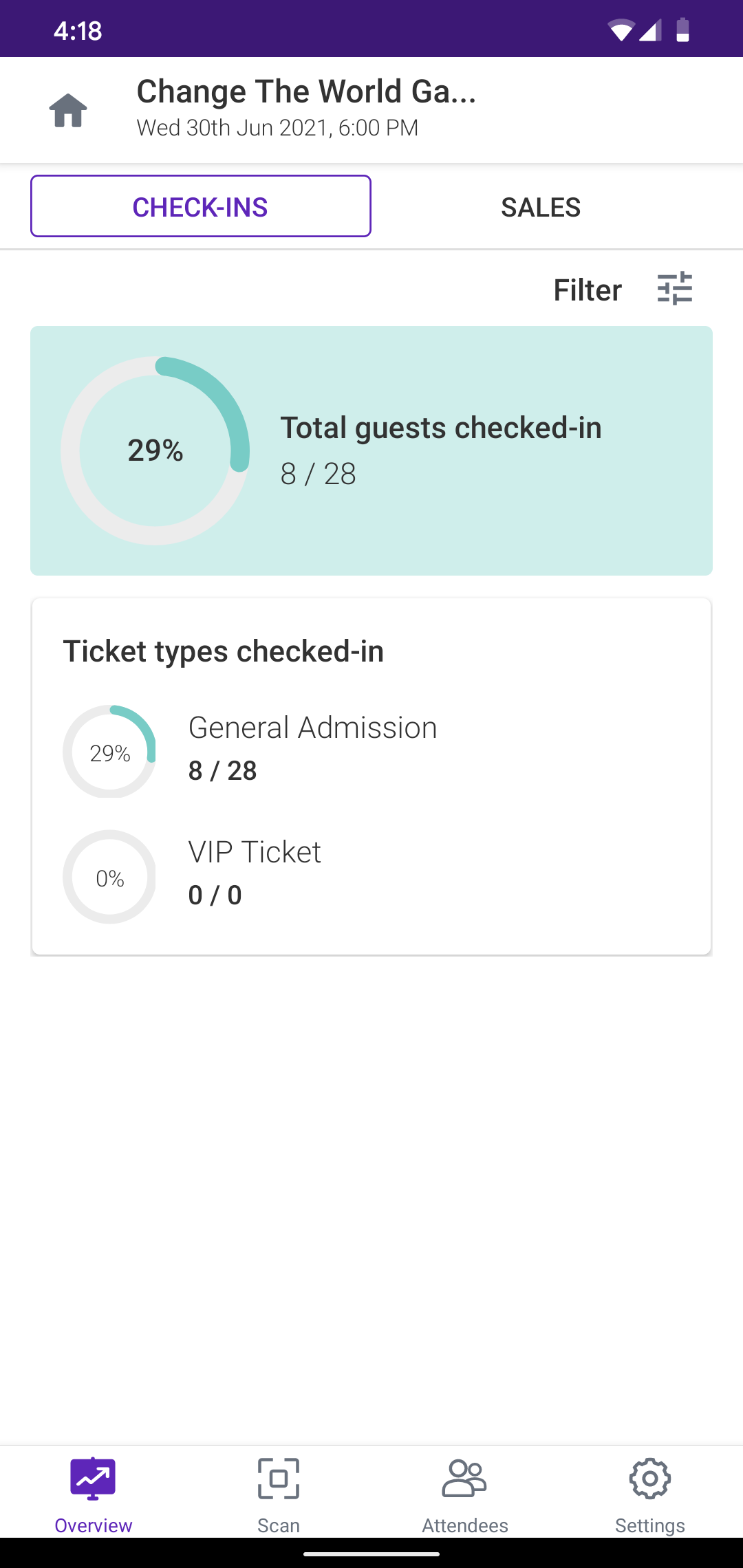 Navigation bar
Use the bottom menu bar to quickly switch between your event dashboard and scanning tickets

Overview: Takes you to the event dashboard
Scan: Use the camera to scan QR codes
Attendees: List of all ticket holders
Settings: Share event access to volunteers or log out
Scanning your tickets
Click the scan icon on the bottom menu bar.
Hold the camera over the QR code that appears on the attendees ticket.
One of 3 messages will appear once a ticket QR code has been scanned:
Checked-in

This ticket has been successfully checked-in

Already checked-in

This ticket has already been scanned

Ticket not valid

This ticket has been cancelled or is not valid for this event / event date
Click view order on the prompt to see the buyer and ticket holder details of this order.
Manually search and check-in attendees
Click the attendees tab on the bottom menu bar
There are two views:
1. Attendees
A list of all ticket holders
Select the checkbox to the right to check-in
2. Orders
A list of all orders
Click to view the order details and a list of tickets inside each order which can be checked-in.
Using the search bar enter the attendee name or buyer name / Order ID
| | |
| --- | --- |
| Attendees | Orders |
| | |
Setting up volunteers & staff to help scan
You can share access to your event to your volunteers and staff on the day so that they can help scan using their own devices. This access is limited to using the Humanitix scanning app to help check-in attendees, they will not be able to make changes to the event nor view any sensitive financial information.
On your device:

Select the event you would like to share access to.
Click the settings tab on the bottom menu bar > give event access
Present the QR code that appears

On your volunteers/staff's device:

Download the Humanitix organiser app on their device
Click get scan permissions
Use the camera to scan the event access QR code
Sharing permissions ahead of time
You can also share scanning app permissions to your team before the day so that everyone is ready to go.
Log into Humanitix on your desktop/laptop
Head to account > permissions
Click add member and enter the email address of your volunteer/staff
Select event specific access and select the event(s) > app access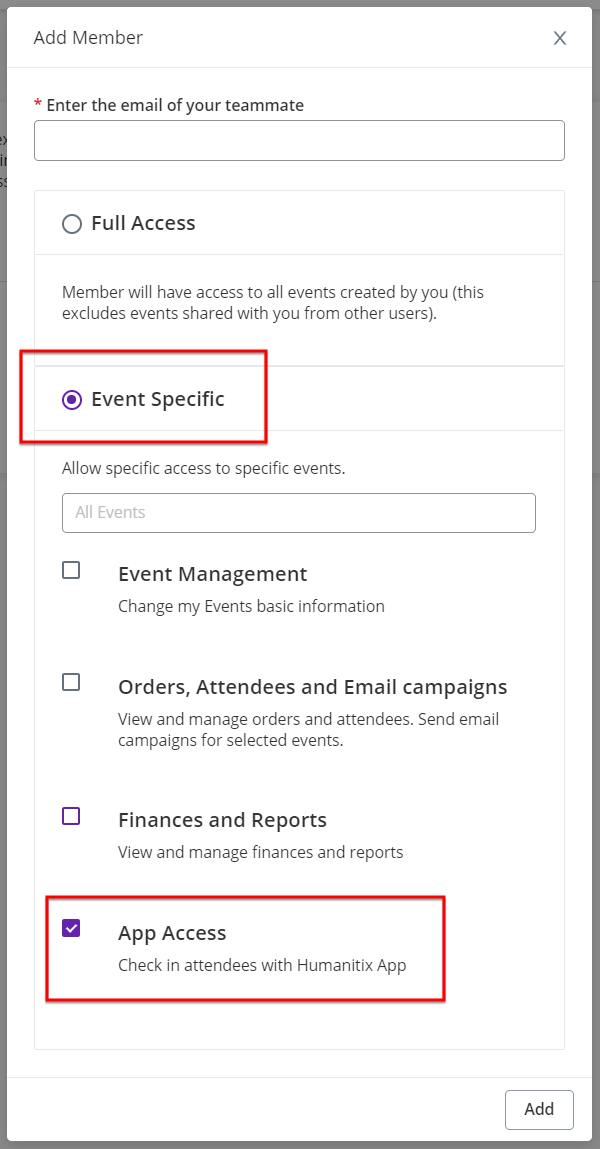 Scanning your tickets while offline
While we do recommend having a reliable internet connection at your event location, we understand that this might not always be possible. No stress, the app is designed to also function while offline.
Your ticket scans and check-ins will be stored locally on your device and updated once you reconnect to your wifi or data source.
Prep your scanner(s): Before heading out of your data/wifi range, open up the Humanitix app and select your event. This will download the attendee data for this event to your device. Use the app as per normal. This will need to be done for all scanning devices that will be used on the day.
If you are using multiple scanning devices offline tickets may be scanned more than once as these devices cannot communicate with each other
Scanning messages (optional)
Scanning messages can prompt your volunteers / staff with custom information; include instructions for VIPs or help direct certain ticket type holders to the right location! Easy.
These messages appear when a certain ticket or ticket type has been checked-in on the app.
Log into Humanitix via your desktop/laptop or phone browser.
Click events and select your event
Click manage attendees > scanning messages > create message

Give your message a heading
Select the date(s) this message applies to;
Select the ticket types or orders this will message will apply to and appear when scanned.
Put the relevant message in the message area.
For example, I have created a ticket type for my VIP who are sitting at a table. When they are scanned, I want my scanners to show them where their table is. I will then set up the scanning message on my desktop like this: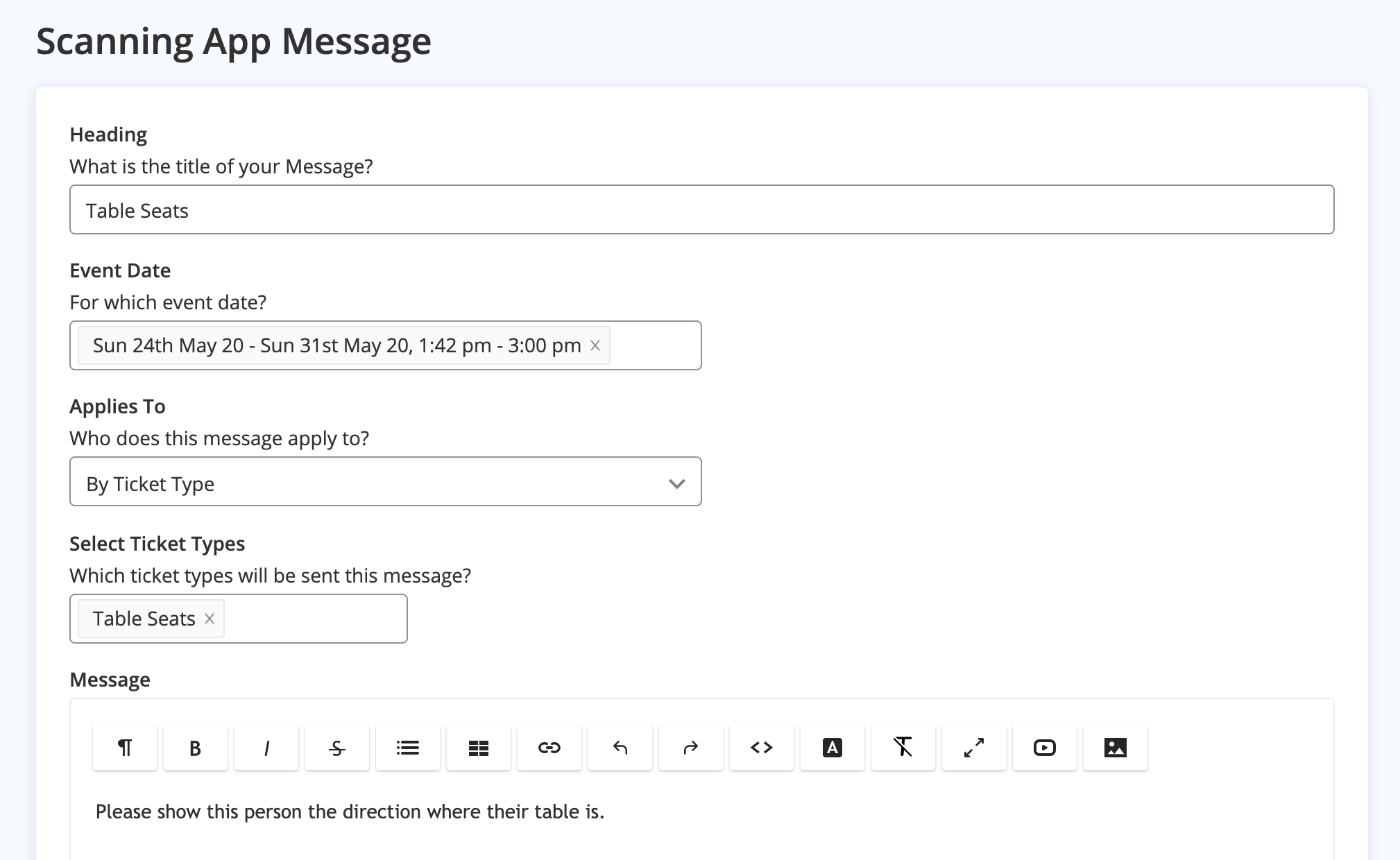 Then when anyone with the "Table Seats" ticket type is scanned, a message will appear on the screen of whoever will be scanning them like this: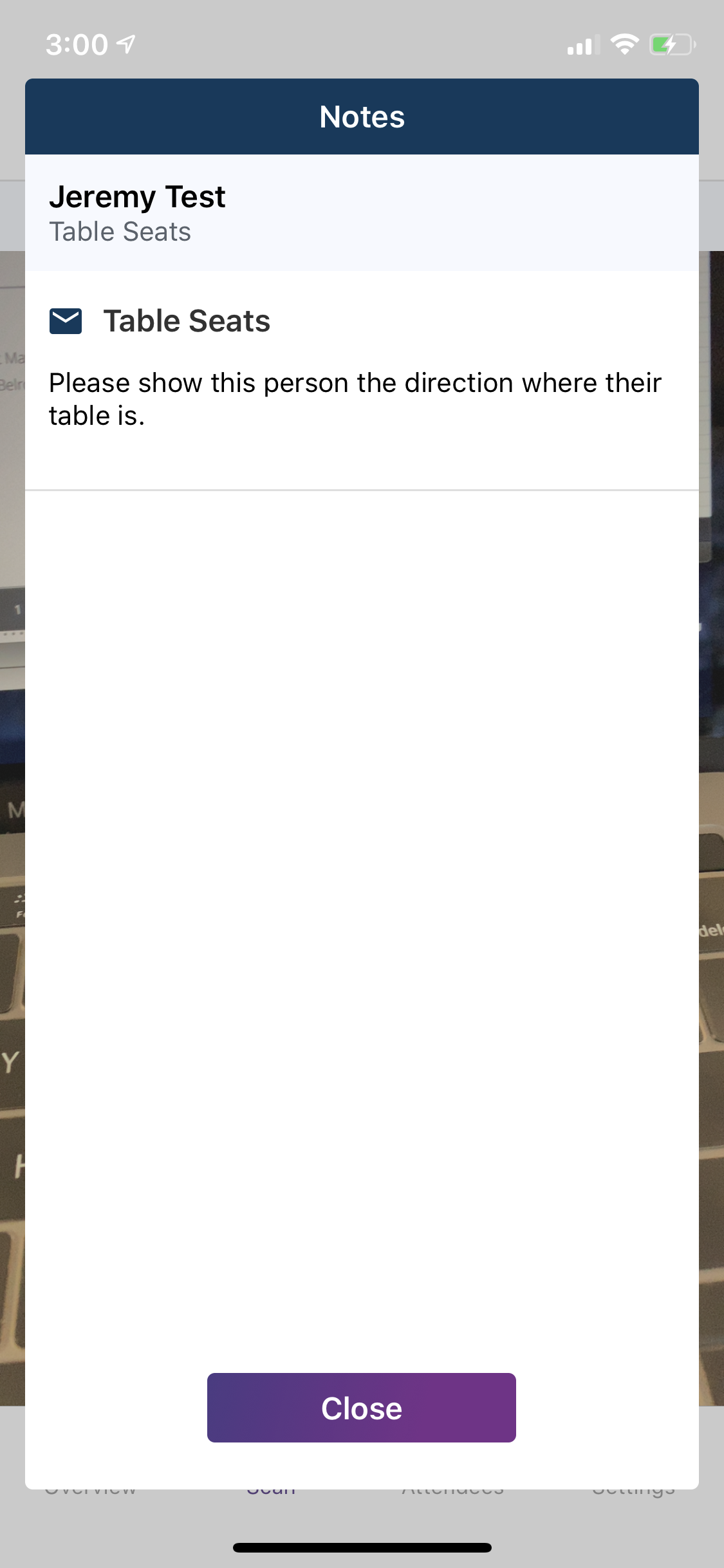 Troubleshooting
The app just crashed. What do I do?
Oops! Sometimes bad things happen but no worries simply relaunch the app and everything should be fine again :)
---
---